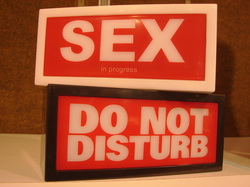 (Fri. 12/20/85) - #12 - Rob White, rated a (7) and #13 - Johnny Black, rates a (6)– they were both (23) and this was so wild. Right out of a dream. Fucked a
real lot and was just so weird. I never did anything like this before. There
was A LOT going on.I mean a LOT going on. But it was very memorable for my first three-some.

After the club the three of us went back to my place.Knew it was party time. They had plenty of lines and I had plenty of alcohol and weed. Listened to tunes and played around in the dining room, but ended up on my king-sized waterbed. Plenty of room for the 3 of us. Just went with the flow. Kissing here and touching
there and grabbing and sucking and so getting into it. Rolled all
around that waterbed. They were definitely NOT gay. Mostly took turns.

(People later asked what a 3-some was like & I would always say, "busy, very busy"...)

Man, I was tired after all that.... whew!