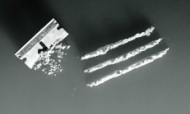 #15 - (Tues. 12/31/85) - Georgie Rossi (23) only rates a (6). Met at Suburban Park Club. He was technically unemployed, but an obvious coke dealer. So you could say he worked "under the table". It was New Year's Eve, so hey. But it ended up a weird night. Another 3-some. My first with 2 girls this time. Me and my friend Leah on him. Was not great by any means, and definitely not comfortable for me. It just didn't work out like I expected. Lots of coke tho!

Leah was weird about the sharing and he was a total disappointment for all those muscles and gold chains around his neck. And he SO wreaked of cologne. "Dude, a little much". Plus a small dick and he had trouble getting hard. Then he preferred Leah, so oh well. No big deal to me. Said he was separated, turned out he wasn't (surprise, surprise). I only tried this for a
new experience. It was New Years Eve after all. Time for new things. Did I mention LOTS of coke?