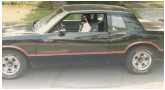 Hey, baby...
#26 - (Fri. 7/11/86) - Clark Green, 24 years old. Motherfucker got an 8+. We met an unusual way. We were both living on the north side. Life was "city" like. Houses close together, but everybody pretty much minding their own business. I got up for work every morning at the same time. Then, as I left the house, I would see this shiny, new, black, Chevy Monte Carlo drive by, obviously on the same schedule. Behind the wheel there was an intriguing guy, driving with shades on and a purpose. "Got to get to work" I could almost hear him say.

We noticed each other a few times by glimpse. Then we smiled. So obvious, we began to nod with the smile, then it became a wave. Until one day he stopped. That was it. It went on from there for a while. We had a purely sexual relationship for several months, although it was not monumental. Not my usual type, he won me over and said all the right things, at the right time. He definitely expressed his desire, so I obliged and enjoyed our little sexual fling. We both lived alone, and right around the corner from each other, so did it a few times at his place and a few at mine. It made for a nice variety. He was a dirty little guy who loved porn. But nothing more than a few months of sex was desired by me and we just did not "hook up" again.

Ok, that was fun – next...