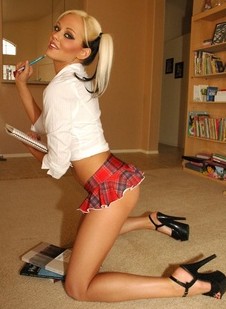 #49 - (Sat. 12/27/86) - Dean Davis, (28); gave him an (8). I had to get myself a Christmas present, so I went to RJ's alone. Yes alone, again. I wasn't there very long when I spotted him. He was a carpenter/roofer and wore a black and while flannel shirt that was tight enough to show his muscular chest and arms. He looked manly and so in shape with long straight brown hair to the middle of his back. A rugged guy, he had a nice truck and spent lots of money on me. And this turned out to be quite an experience. We both played a fantasy game. I had never role played before, but it was so much fun.

He kind of reminded me of Mitch Gaylord, a popular Olympic medalist at the time, and very cute athlete. So I completely got into it. He wanted me to dress up and get sexy which I was happy to oblige. I had a lot of lacy negligees, stockings, and high heels. I pulled my hair up and added jewelry and a splash of perfume to complete my feminine allure. He was my "Mitch" and I was his "Heather Locklear" (well, thank-you very much!).

It was very different from anything I had done before. We called each other by those names only all night long and it was hot. He was short, didn't have a very big penis, and had to work to get it up. Blame it on the alcohol. But he did stay the night and we talked some besides the major partying. I got his phone number, but didn't give him mine. Ok, that was very fun, but see ya...